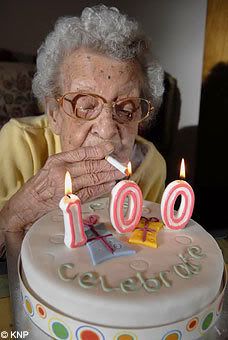 Today Winnie Langley turned 100 years old.
Good for her, considering she has smoked five butts a day since the age of 7.
I was at the birthday and had a twenty dollar bet with a 89 year old snuffer that old Winnie couldn't fester up the lung power to blow out her three candles. I lost but only by a technicality. If you ask me, phlegm spewing on the cake, all the candles and a sea of reporters dosen't REALLY count as lung power.
I tried to keep my money but he was jonseing, so I, like our dear Winnie, coughed up the green.
Long live the debauchees!