As many of you know, I won the "Best Costume" award this Halloween for my "Dog The Bounty Hunter" get-up. It really was perfect.
The same day I received the good news I heard some more disturbing news. Dog is not the loving puppy we all thought he was. In fact, he is quite the opposite. Apparently, the guy lost it on his Son and left him a diatribe on his answering machine (Dog: you fucking idiot) dropping the "N" bomb on some Nagasaki status.
Long post short, I want nothing to do with a racist. I choose Halloween costumes to celebrate characters. I always dug Dog and his show but now I don't. I don't want a prize for dressing up as a bigot. So, tomorrow in school I will make an announcement. My title is being passed on to Alexander Feldman for the most accurate Six String Samurai attire he sported.
As for Duane "The Dog" Chapman: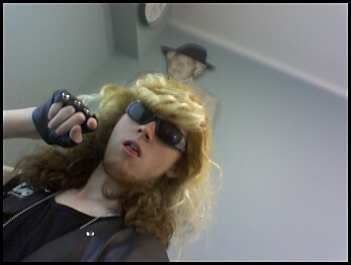 Go fuck a cat.